Vaal Reliquary
Map area, Unique Map area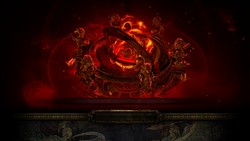 Area does not contain Rogue Exiles (Hidden)
The Vaal Reliquary is an area that is accessible by placing a
Vaal Reliquary KeyVaal Reliquary KeyAmbition followed progress,
Vanity followed passion,
Hubris followed intellect...
And silence followed all.Travel to the Vaal Reliquary by using this item in a personal Map Device. Can only be used once.
in a Map Device.
The loot container of this area, Vaal Repository (a unique Relic Vault), have an equal chance to acquire one of the Vaal-themed Relic unique.
The portals to the area use the portal effect similar to
The Apex of SacrificeThe Apex of SacrificeMap Level: 70Area does not contain Rogue Exiles (Hidden)Travel to this Map by using it in the Templar Laboratory or a personal Map Device. Maps can only be used once.
.
Gallery
Version history
| Version | Changes |
| --- | --- |
| 3.14.0 | |