Valdo's Rest is a Atlas region located in the inner bottom right of the Atlas of Worlds.
It is named after Valdo Caeserius, the real name of the Shaper.
Atlas passive skills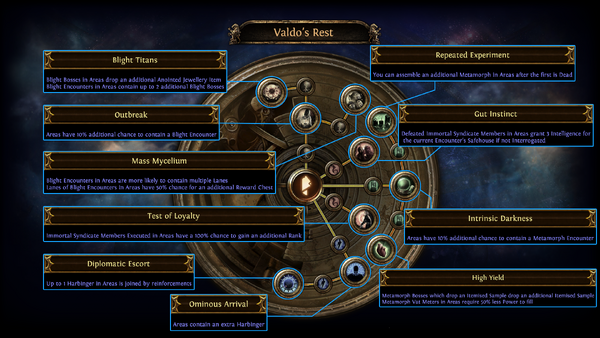 The Valdo's Rest Atlas Passive Skill Tree allows players to increase specific types of drops, enemies, and map events within this region. Players can allocate ten points in this region, earned by completing The Maven's challenges, and skill tree allocations can be refunded with an
Orb of UnmakingOrb of UnmakingStack Size: 40Grants an atlas passive skill refund pointRight click on this item to use it.
Shift click to unstack.
.
Blight Skilltree:
Outbreak (Blight): Areas have 10% additional chance to contain a Blight Encounter.
Blight Titans (Blight): Blight Bosses in Areas drop an additional Anointed Jewellery Item. Blight Encounters in Areas contain up to 2 additional Blight Bosses
Mass Mycelium (Blight): Blight Encounters in Areas are more likely to contain multiple Lanes. Lanes of Blight Encounters in Areas have 50% chance for an additional Reward Chest
Syndicate Skilltree 1:
Gut Instinct: Defeated Immortal Syndicate Members in Areas grant 5 Intelligence for the current Encounter's Safehouse if not Interrogated
Syndicate Skilltree 2:
Test of Loyalty: Immortal Syndicate Members Executed in Areas have 100% chance to gain an additional Rank
Metamorph Skilltree:
Intrinsic Darkness: Areas have 10% additional chance to contain a Metamorph Encounter
Repeated Experiment: You can assemble an additional Metamorph in Areas after the first is Dead
High Yield: Metamorph Bosses which drop an Itemised Sample drop an additional Itemised Sample. Metamorph Vat Meters in Areas require 50% less Power to fill
Harbinger Skilltree:
Diplomatic Escort (Harbinger): Replaces one Harbinger in areas with a King Harbinger.
Ominous Arrival (Harbinger): Areas contain an extra Harbinger
Atlas base item types
The following base item types can be found in this region:
Atlas Region
White maps (T1-T5)
Yellow maps (T6-T10)
Red maps (T11+)
Valdo's Rest
Fingerless Silk Gloves

Fingerless Silk Gloves

Energy Shield: 43Requires Level 70, 95 Int(12-16)% increased Spell Damage
Seaglass Amulet

Seaglass Amulet

Requires Level 74

(10–15)% faster start of Energy Shield Recharge

Fingerless Silk Gloves

Fingerless Silk Gloves

Energy Shield: 43Requires Level 70, 95 Int(12-16)% increased Spell Damage
Seaglass Amulet

Seaglass Amulet

Requires Level 74

(10–15)% faster start of Energy Shield Recharge


Vanguard Belt

Vanguard Belt

Requires Level 78+(260-320) to Armour and Evasion Rating
Fingerless Silk Gloves

Fingerless Silk Gloves

Energy Shield: 43Requires Level 70, 95 Int(12-16)% increased Spell Damage
Seaglass Amulet

Seaglass Amulet

Requires Level 74

(10–15)% faster start of Energy Shield Recharge


Vanguard Belt

Vanguard Belt

Requires Level 78+(260-320) to Armour and Evasion Rating
Maps located within this region
Item
Map
Tier
Atlas map tier
based on region
Atlas map level
based on region
Pen Map

Pen Map

Map Level: 68
Map Tier: 1
Guild Character: b

Slaves held like cattle. A blood-soaked revolution, just waiting to happen.

Travel to this Map by using it in a personal Map Device. Maps can only be used once.

1
1
4
8
10
14
68
71
75
77
81
Arena Map

Arena Map

Map Level: 69
Map Tier: 2
Guild Character: t

The sound of a thousand calls for blood echo for eternity.

Travel to this Map by using it in a personal Map Device. Maps can only be used once.

2
2
6
9
11
14
69
73
76
78
81
Promenade Map

Promenade Map

Map Level: 69
Map Tier: 2
Guild Character: ;Even the greatest achievements
will eventually be abandoned.

Travel to this Map by using it in a personal Map Device. Maps can only be used once.

2
2
5
9
11
14
69
72
76
78
81
Canyon Map

Canyon Map

Map Level: 70
Map Tier: 3
Guild Character: j

A deep wound in the land. One that will never heal.

Travel to this Map by using it in a personal Map Device. Maps can only be used once.

3
3
7
10
12
15
70
74
77
79
82
Dry Sea Map

Dry Sea Map

Map Level: 75
Map Tier: 8
Guild Character: `Where once waves crashed with crushing force,
brittle wooden bones tell tall tales.

Travel to this Map by using it in a personal Map Device. Maps can only be used once.

8
✗
✗
8
10
14
✗
✗
75
77
81
Mineral Pools Map

Mineral Pools Map

Map Level: 76
Map Tier: 9
Guild Character: {God's jar of raw materials.
Life lying dormant,
waiting to sprout.

Travel to this Map by using it in a personal Map Device. Maps can only be used once.

9
✗
✗
9
11
14
✗
✗
76
78
81
City Square Map

City Square Map

Map Level: 81
Map Tier: 14
Guild Character: Ö

Countless generations have walked these time-worn stones.

Travel to this Map by using it in a personal Map Device. Maps can only be used once.

14
✗
✗
✗
✗
14
✗
✗
✗
✗
81
Version history
Version
Changes
3.14.0

Atlas passive skill tree changes:

Diplomatic Escort now replaces one Harbinger with a King Harbinger instead of a group of Harbingers.
Gut Instinct now provides 5 Intelligence for the current Encounter's Safehouse if an Immortal Syndicate member is not interrogated (previously 3).

3.13.0
3.9.0