Vaults of Atziri
Vaal Pyramid Map
Map Level: 72
Map Tier: 5
Guild Character: g
Chests have (2500-3500)% increased Item Rarity
Area contains no monsters
Chest drop scaling is disabled. (Hidden)
Found Items have a (20-40)% chance to drop Corrupted in Area
"Should I depart this mortal coil,
so shall all of my treasures."
- Atziri, Queen of the Vaal
Travel to this Map by using it in the Templar Laboratory or a personal Map Device. Maps can only be used once.
Acquisition
DROP DISABLED
Vendor Prices
Vendor Offer
6x Alchemy Shard
Metadata
Item class: Maps
Vaults of Atziri
Map area, Unique Map area

| | |
| --- | --- |
| Id | MapWorldsVaalPyramidUnique |
| Act | 11 |
| Area level | 75 |
| Area type tags | dungeon |
| Tags | indoors_area, unique_map, map, no_tempests, no_boss, no_monster_packs, vaults_of_atziri, no_leaguestone, vaal_pyramid_area, wealthy_area |
"Should I depart this mortal coil,

so shall all of my treasures."

- Atziri, Queen of the Vaal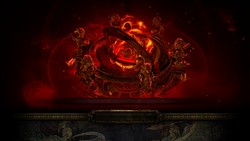 Vaults of Atziri is a unique
Vaal Pyramid MapVaal Pyramid MapMap Level: 72
Map Tier: 5
Guild Character: ~A good slave is driven by
only two thoughts:
service and sacrifice.Travel to this Map by using it in the Templar Laboratory or a personal Map Device. Maps can only be used once.
.
This map consists entirely of rooms filled with gold pots, chests, large chests, and the Atziri's Vessel Strongbox, which contains 8 Sacrifice fragments and/or Vaal skill gems. There are no monsters, although Rogue Exiles, Harbingers, and Tormented Spirits may still spawn.
Map Type: Indoors
Boss: None
Vendor:
Chaos OrbChaos OrbStack Size: 10Reforges a rare item with new random modifiersRight click this item then left click a rare item to apply it.
Shift click to unstack.

Items found in this area
Item
The Gambler

The Gambler

5

Divination Card

"I don't believe in karma. If it were real, I would never win."

1
The Inventor

The Inventor

6

10x Vaal OrbJump right in,
But beware
Of things broken
Or beyond compare.
1
The Queen

The Queen

16

Atziri's AcuityThe power of the world,
lies upon your hands.
1
The Encroaching Darkness

The Encroaching Darkness

8

Map
Corrupted

No matter where your dreams take you, Nightmare follows close behind.

1
The Catalyst

The Catalyst

3

Vaal Orb

Simple actions can lead the world to an early grave.

1
Her Mask

Her Mask

4

Sacrifice FragmentTo her beauty you submit,
lest your neck the great Queen slit.
1
Atziri's Arsenal

Atziri's Arsenal

4

Weapon
Corrupted

In the prison of all sins, will you grasp godhood or sorrow? Only hope lies under the shadows.

1
The Opulent

The Opulent

5

Ring


Item Level:

100

Wealth can, in fact, buy happiness.

1
Monochrome

Monochrome

3

10x Sextant"You cannot portray the world using just one colour. Together, you and I, we will paint our world into perfection."
- Kyra, renegade thaumaturgist
1
The Damned

The Damned

6

Soul RipperSouls along a conduit of blood,
from one vessel to the next.
1
The Adventuring Spirit

The Adventuring Spirit

6

Victario's Influence

Dost thou lead my men to victory, my child?

1
Item acquisition
This item is drop disabled.
Legacy variants
Vaults of Atziri has legacy variants.
Version Discontinued
Base Item
Modifiers
3.3.0
Vaal Pyramid Map
Map Level: 75

Chests have (1800 to 2000)% increased Item Rarity

Area contains no monsters

Found Items have a (20-40)% chance to drop Corrupted in Area

3.1.0
Vaal Pyramid Map
Map Level: 70

Chests have (1800 to 2000)% increased Item Rarity

Area contains no monsters

Found Items have a (20-40)% chance to drop Corrupted in Area

2.0.0
Vaal Pyramid Map
Map Level: 68

Chests have (1800 to 2000)% increased Item Rarity

Area contains no monsters

Found Items have a (20-40)% chance to drop Corrupted in Area
Other versions
Version history
Version
Changes
3.5.0

The Atlas of Worlds has been shuffled. Most maps have changed tier and location within the Atlas.

3.3.0

(undocumented) Replaced mod:

Chests have (1800-2000)% increased Item Rarity

replaced by

Chests have (2500-3500)% increased Item Rarity

.
(undocumented) Added mod:

Found Items have a (20-40)% chance to drop Corrupted in Area

.

1.1.1

Fixed a problem where Vaal Vessels in the Vaults of Atziri could drop items that were impossible to pick up.

1.1.0

Vaal items can now also be found in the Vaults of Atziri.

0.10.0g

Changed the world area of the Vaults of Atziri Unique Map to the same level as its base item type.

0.9.11c
0.9.11

Introduced to the game. (Drop disabled)