Vixen's Entrapment
Embroidered Gloves
Quality: +20%
Energy Shield: (88-136)
Requires Level 36, 54 Int
Trigger Socketed Curse Skill when you cast a Curse Skill
+(50-90) to maximum Energy Shield
0.2% of Spell Damage Leeched as Energy Shield for each Curse on Enemy
You can apply an additional Curse
Curse Skills have (10-20)% increased Cast Speed
"One coy look. One blown kiss. One word spoken.
One night I wish I'd forget."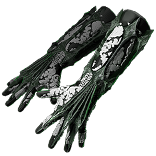 Vendor Prices
Vendor Offer
14x Alchemy Shard
3x Alteration Shard
Metadata
Item class: Gloves
Vixen's Entrapment is a pair of unique
Embroidered GlovesEmbroidered GlovesEnergy Shield: 24Requires Level 36, 54 Int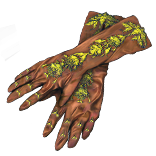 .
Mechanics
Despite the wording on the item as "curse skill" (singular),
Vixen's EntrapmentVixen's Entrapment
Embroidered GlovesQuality: +20%
Energy Shield: (88-136)Requires Level 36, 54 IntTrigger Socketed Curse Skill when you cast a Curse Skill
+(50-90) to maximum Energy Shield
0.2% of Spell Damage Leeched as Energy Shield for each Curse on Enemy
You can apply an additional Curse
Curse Skills have (10-20)% increased Cast Speed"One coy look. One blown kiss. One word spoken.
One night I wish I'd forget."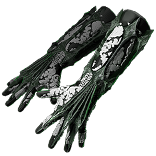 will actually trigger all socketed skill gems that have the curse gem tag simultaneously on cast of any other curse. It also explicitly works with both types of curse and makes no distinction between Hexes and Marks: Casting either one manually will trigger all of the socketed curses.
Note that
BaneBaneChaos, Trigger, Spell, AoE, Duration, Hex
Level: (1-20)
Cost: (10-20) Mana
Cast Time: 0.60 secApplies a debuff to enemies in an area, which deals chaos damage over Time. Linked hex curses are also applied to those enemies. The debuff deals more damage and lasts longer for each hex applied this way. This skill cannot be used by Totems, Traps, or Mines.Per 1% Quality:1Superior2Anomalous3DivergentApplied Curses have 0.5% increased Effect1% increased Skill Effect DurationEnemies have 0.5% chance to Explode on Death, dealing a quarter of their maximum Life as Chaos DamageBase duration is 2.00 seconds
Deals (45.7-895.6) Base Chaos Damage per second
(28-42)% more Damage per Curse applied
50% increased Debuff Duration per Curse applied
Only applies Hexes from Curse Skill Gems requiring Level (24-70) or lower
Modifiers to Spell Damage apply to this Skill's Damage Over Time effect
+(0-3) to radius
This Gem can only Support Skill Gems requiring Level (24-70) or lower
You cannot Cast Supported Curse SpellsPlace into an item socket of the right colour to gain this skill. Right click to remove from a socket.
does not have the Curse gem tag anymore.
Item acquisition
Upgrade paths
This item can be acquired through the following upgrade paths or vendor recipes:

Amount
Ingredient
General
Notes
Type
5
Mitts

Mitts

5

Gloves

Those whose hands are their livelihood know the importance of keeping them safe and warm.

random gloves
Automatic
7
Prejudice

Prejudice

7

Item


Influenced ItemOne who is blinded by their past may
only see a sliver of the present.
random influenced item
Automatic
8
Arrogance of the Vaal

Arrogance of the Vaal

8

Item


Two-Implicit


Corrupted

Discovery can lead to beauty, or it can lead to ruin.

random two-implicit corrupted item
Automatic
4
Jack in the Box

Jack in the Box

4

ItemTurn the crank,
close your eyes,
and pray to the gods
for a pleasant surprise.
random item
Automatic
1
Singular Incubator

Singular Incubator

Adds an incubated Unique item to an equippable item
Item drops after killing # monsters

Unique Item

Right click this item then left click an item to apply it. The Incubated item drops after killing a specific number of monsters.

random item
Automatic
1
The Void

The Void

1

Reach into the Void and claim your prize.

random divination card set exchange
Automatic
Supporter attribution
Vixen's Entrapment was created by supporter retruber, which is the third creation.[1]
He also created
Essence WormEssence Worm
Unset RingRequires Level 38Has 1 Socket+2 to Level of Socketed Aura Gems
Socketed Gems Reserve No Mana
40% increased Mana Reserved"This thing is not a pet. It is a parasite that feeds on the very will of its host.
Like any part of nightmare, it has found a way to make its price... acceptable."
- Malachai the Soulless
[citation needed] and
Witchfire BrewWitchfire Brew
Stibnite FlaskLasts 5.00 Seconds
Consumes 60 of 60 Charges on use
20% More Evasion RatingRequires Level 48Creates a Smoke Cloud on Use50% increased Charges used
Grants Level 21 Despair Curse Aura during Flask Effect"Think of those that cursed us, judged us,
and burned our sisters upon the pyre.
Think of their names as you drink,
and even their children will feel what we do to them today."
-Vadinya, to her covenRight click to drink. Can only hold charges while in belt. Refills as you kill monsters.
[citation needed].
Version history
| Version | Changes |
| --- | --- |
| 3.6.0 | |
References