Volkuur's Guidance is a pair of unique
Zealot GlovesZealot GlovesArmour: 78
Energy Shield: 15Requires Level 43, 34 Str, 34 Int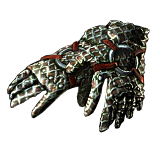 with three attainable variants.
Variants
Acquisition
Volkuur's Guidance can be obtained by defeating the Pale Council in
The Pale CourtThe Pale CourtMap Level: 75Travel to this Map by using it in the Templar Laboratory or a personal Map Device. Maps can only be used once.
.
Gallery
See also
Version history
Version
Changes
3.0.3

Added 3D art for Eber's UnificationEber's Unification
Hubris CircletQuality: +20%
Energy Shield: (205-228)Requires Level 69, 154 IntTrigger Level 10 Void Gaze when you use a Skill
(150-180)% increased Energy Shield
+(50-80) to maximum Mana
50% increased Stun and Block Recovery
Gain (5-8)% of Elemental Damage as Extra Chaos DamageThe impediments of flesh are weak.
The air we breathe knows no such boundaries.
I exhale, and you inhale,
and inexorably we inch towards oneness., Inya's EpiphanyInya's Epiphany
Arcanist SlippersQuality: +20%
Energy Shield: 54Requires Level 61, 119 Int+(50-70) to maximum Life
25% increased Movement Speed
(5-8)% increased Intelligence
5% increased Damage per Power Charge
25% chance that if you would gain Power Charges, you instead gain up to
your maximum number of Power ChargesThough the path we walk is the same,
each journey is different., Volkuur's Guidance and Yriel's Fostering.

3.0.0
This
disambiguation
page lists articles associated with the title
Volkuur's Guidance
.
If an
internal link
led you here, you may wish to change the link to point directly to the intended article.