Not to be confused with
Vaal
.
Voll, Emperor of Purity is a unique monster located in The Dried Lake.
Quest
Deshret's BannerDeshret's BannerWhen the sun sets, the plains should be red.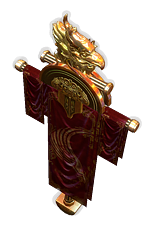 is acquired after defeating him.
Lore
High Templar Voll of Thebrus was the leader of the Purity Rebellion, a crusade to eliminate all Gemlings and thaumuturgists from the Eternal Empire and create a new nation of theocracy in its place. Voll had enlisted many Eternal historical figures to his cause, including Victario, Ondar, and Archbishop Geofri, as well as leaders of other nations, including King Kaom of Karui, Thane Rigwald of Ezomyr, and Sekhema Deshret of Maraketh. Voll was successful in his campaign, having Emperor Chitus assassinated and burning many thaumuturgists at the stake, including Maligaro and Doedre.
However, before he could execute Chitus's thaumuturgist Malachai, Malachai offered "the end to thaumuturgy" in exchange for his life. Voll spared Malachai, a decision he would come to regret.[1] Voll's reign as Emperor was short, and he and his Empire were destroyed by the Cataclysm.
Some artifacts relating to his involvement in the Purity Rebellion are present in modern Wraeclast, within the Phrecian Forests of Act 2 and in the Library of Act 3. Some of these items of environmental lore record proclamations made by Voll during that time.
Map variants
Related items
Achievements
| Name | Description |
| --- | --- |
| Purifier | Kill Voll, Emperor of Purity. |
Version history
References