Voltaxic Rift
Spine Bow
Bow
Quality: +20%
Physical Damage: 31.2-93.6
Elemental Damage: 1 to (275-325)
Critical Strike Chance: 6.50%
Attacks per Second: (1.54-1.61)
Weapon Range: 120
Requires Level 64, 212 Dex
Adds 1 to (275-325) Lightning Damage
(10-15)% increased Attack Speed
60% of Lightning Damage Converted to Chaos Damage
10% chance to Shock
Your Chaos Damage can Shock
Shock Enemies as though dealing 300% more Damage
Your Shocks can increase Damage taken by up to a maximum of 100%
The eldritch storm descended upon us, and bruised lightning
rained down. Metal withered and flesh melted before its
arcane power. There was no escape, no shelter. Only despair.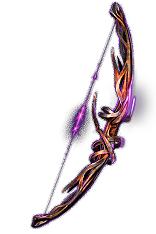 Vendor Prices
Vendor Offer
22x Alchemy Shard
6x Alteration Shard
Weapon DPS
Physical: (96.1-100.5)
Lightning: (212.5-262.4)
Elemental: (212.5-262.4)
Phys+Chaos: (96.1-100.5)
Total: (308.6-362.9)
Metadata
Item class: Bows
Voltaxic Rift is a unique
Spine BowSpine BowBow
Physical Damage: 26-78
Critical Strike Chance: 6.50%
Attacks per Second: 1.40
Weapon Range: 120Requires Level 64, 212 Dex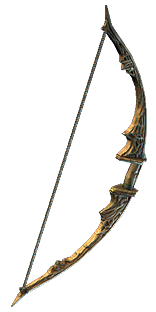 .
Item acquisition
Upgrade paths
This item can be acquired through the following upgrade paths or vendor recipes:

Amount
Ingredient
General
Notes
Type
1
A Call into the Void

A Call into the Void

The dreaming cockerel crows thrice, and thunder bellows from the void.

You will track down a powerful Talon Archer in a map who will drop a unique item when slain.

Right-click to add this prophecy to your character.

Seal Cost:
2x Silver Coin

Prophecy reward

Manual
7
Tranquillity

Tranquillity

7

Voltaxic Rift

Beware the sudden calm, for it is a sure sign of a storm on the horizon.

Voltaxic Rift

Manual
13
Anarchy's Price

Anarchy's Price

13

Voltaxic Rift
Corrupted

Born of relentless fury and abhorrence, warped by turmoil and anguish, tainted through desire and carnality, I thirst for bloodshed once more.

corrupted

Voltaxic Rift

Manual
8
Hunter's Resolve

Hunter's Resolve

8

BowPrimed, curved and sleek.
Decisive and final.
For malice and righteousness.
There's but one solution.
random bow
Automatic
4
Atziri's Arsenal

Atziri's Arsenal

4

Weapon
Corrupted

In the prison of all sins, will you grasp godhood or sorrow? Only hope lies under the shadows.

random corrupted weapon
Automatic
7
Prejudice

Prejudice

7

Item


Influenced ItemOne who is blinded by their past may
only see a sliver of the present.
random influenced item
Automatic
8
Arrogance of the Vaal

Arrogance of the Vaal

8

Item


Two-Implicit


Corrupted

Discovery can lead to beauty, or it can lead to ruin.

random two-implicit corrupted item
Automatic
4
Jack in the Box

Jack in the Box

4

ItemTurn the crank,
close your eyes,
and pray to the gods
for a pleasant surprise.
random item
Automatic
1
Singular Incubator

Singular Incubator

Adds an incubated Unique item to an equippable item
Item drops after killing # monsters

Unique Item

Right click this item then left click an item to apply it. The Incubated item drops after killing a specific number of monsters.

random item
Automatic
1
The Void

The Void

1

Reach into the Void and claim your prize.

random divination card set exchange
Automatic
Legacy variants
Voltaxic Rift has a legacy variant.
Version Discontinued
Modifiers
3.9.0




Adds 1 to (275-325) Lightning Damage
(10-15)% increased Attack Speed
60% of Lightning Damage Converted to Chaos Damage
10% chance to Shock
Your Chaos Damage can Shock

Shock enemies as through dealing 300% more damage

Your shocks can increase damage taken by up to a maximum of 100%
Supporter attribution
Voltaxic Rift was created by supporter Icestormer.[citation needed]
Gallery
Version history
Version
Changes
3.9.0

Now also allows you to Shock enemies as if dealing 300% more damage, and allows Shocks you inflict to increase damage taken by enemies by up to a maximum of 100% (as opposed to the normal Shock cap of 50%).
Voltaxic Rift's basetypes now has a base attack speed of 1.4 attacks per second (from 1.35) and 6.5% base critical strike chance (from 6%). The damage has been lowered to allow for the changes to attack speed.

3.3.1b

Added audio for attacks using Chin SolChin Sol
Assassin BowBow
Quality: +20%
Physical Damage: (96-114) to (284.8-338.2)
Elemental Damage: 25-50
Critical Strike Chance: 6.70%
Attacks per Second: (1.38-1.43)
Weapon Range: 120Requires Level 62, 212 Dex+(15-25)% to Global Critical Strike Multiplier+(10-20) to Dexterity
(200-260)% increased Physical Damage
Adds 25 to 50 Fire Damage
(10-14)% increased Attack Speed
50% More Damage with Arrow Hits at Close Range
Bow Knockback at Close RangeAs a soldier you want to get close to enemy archers.
That is not the case when fighting the Maraketh., DoomfletchDoomfletch
Royal BowBow
Quality: +20%
Physical Damage: (26.4-31.2) to (73.2-78)
Critical Strike Chance: 5.00%
Attacks per Second: (1.59-1.65)
Weapon Range: 120Requires Level 28, 95 Dex(20-24)% increased Elemental Damage with Attack SkillsAdds (12-16) to (20-24) Physical Damage
(10-14)% increased Attack Speed
60% increased Mana Regeneration Rate
Gain 100% of Weapon Physical Damage as Extra Damage of a random Element"Toasted or frozen
Or twitching in the light
I'm not fussy
And neither is Death."
- Koralus Doomfletch, InfractemInfractem
Decimation BowBow
Quality: +20%
Physical Damage: (128.8-161.7) to (269.1-308.7)
Critical Strike Chance: (6.50%-7.50%)
Attacks per Second: 1.20
Weapon Range: 120Requires Level 53, 170 Dex(30-50)% increased Critical Strike Chance+(20-30) to Dexterity
(110-125)% increased Physical Damage
Adds (25-35) to (36-45) Physical Damage
10% increased Movement Speed
+(350-400) to Accuracy Rating
Cannot Leech Life
Arrows Pierce all TargetsMark us with mercy, then press on with care,
Execute us steadily, notch away at our despair., Null's InclinationNull's Inclination
Ranger BowBow
Quality: +20%
Physical Damage: 46.8-97.2
Chaos Damage: (50-80) to (130-180)
Critical Strike Chance: 6.00%
Attacks per Second: (1.39-1.46)
Weapon Range: 120Requires Level 60, 212 Dex, 212 IntAdds (50-80) to (130-180) Chaos Damage
(7-12)% increased Attack Speed
+(7-11)% to Chaos Resistance
+212 Intelligence Requirement
Minions deal 1% increased Damage per 10 Dexterity
Trigger Socketed Minion Spells on Kill with this Weapon

The hunt continues when the prey falls.

, and Voltaxic Rift.

3.3.0
2.3.0

Elemental to chaos conversion has been reduced in effectiveness. This only appears on a few items, but is a system change rather than just a change to those items. As such the items affected will not have legacy versions with old values. We have made sure these items display the correct new effective value. The values of chaos conversion on Voltaxic Rift, Infernal Mantle and The Consuming Dark uniques have been reduced to be 60% of their prior value.

0.11.4