Whakawairua Tuahu (Legion)
Whakawairua Tuahu
Strand Map
Map Level: 71
Map Tier: 4
Guild Character: È
Item Quantity: (+40%-+60%)
Item Rarity: (+120%-+160%)
Area contains many Totems
Curses have 50% reduced effect on Monsters
Rare Monsters each have a Nemesis Mod
We all began life in darkness, we shall all end it there.
Travel to this Map by using it in the Templar Laboratory or a personal Map Device. Maps can only be used once.
Purchase Costs
Sell Price
12x Alchemy Shard
Miscellaneous
Item class: Maps
Whakawairua Tuahu
Map area, Unique Map area
| | |
| --- | --- |
| Id | MapWorldsStrandUnique |
| Act | 11 |
| Area level | 71 |
| Bosses | Tormented Temptress |
| Area type tags | beach |
| Tags | unique_map, map, limited_tempests, area_with_water, domination_leaguestone, coast_boat_area, map_area_with_open_water |
We all began life in darkness, we shall all end it there.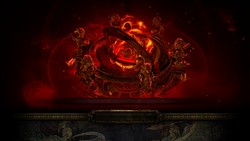 Whakawairua Tuahu is a unique
Strand MapStrand MapMap Level: 71
Map Tier: 4
Guild Character: 8Nothing good washes up
on this dark shore.Travel to this Map by using it in the Templar Laboratory or a personal Map Device. Maps can only be used once.
.
Layout
The map is divided into 2 main regions and 1 boss arena. The first region, the one the player spawns in, is similar to the normal Strand map. The second area, accessed via a red portal found in the first region, is similar in style to the Ship Graveyard from Act I, and the boss arena is found in a cave entrance much like the Ship Graveyard Cave.
The Boss arena features an Ancient Seal (similar to the one that unleashes the darkness in the Vaal Ruins of Act 2). Opening the Seal releases the Boss.
Note, it is advisable to finish the first area before moving on to the second, as you cannot return to the first. The boss arena cannot be exited until the boss is defeated.
Debuff
While inside the map area, a debuff named Creeping Darkness is applied on all players:
| | |
| --- | --- |
| | The player's light radius, Item Rarity and Item Quantity slowly decrease over time. When the player kills an enemy those stats increase. |
Encounters
Boss
A boss monster is spawned for every player in the party, depending on their class.
Once these are killed, there is a final boss:
Tormented Temptress: Ice Aura. Freezing Breath. Proximity Shield. Ice Nova Mine. Continuous Freezing Pulse. Uses Smoke Mines for movement.
Map Video 2.6
Items found in this area
Item
The Gambler

The Gambler

5

Divination Card

"I don't believe in karma. If it were real, I would never win."

1
The Doppelganger

The Doppelganger

2

Superior Mirror Arrow


Quality:

+20%

Upon seeing her face, I am terrified—the moon shows me my own form!

1
Her Mask

Her Mask

4

Sacrifice FragmentTo her beauty you submit,
lest your neck the great Queen slit.
1
The Darkest Dream

The Darkest Dream

6

Severed in Sleep
Corrupted

A dream from which you cannot awake is nothing other than a nightmare.

1
Monochrome

Monochrome

3

10x Sextant"You cannot portray the world using just one colour. Together, you and I, we will paint our world into perfection."
- Kyra, renegade thaumaturgist
1
The Landing

The Landing

5

The Beachhead


Map Tier:

15


Corrupted

Warriors of a distant land, you embark on a journey from which you may not return, but which we will be all the better for.

1
Item acquisition
Upgrade paths
This item can be acquired through the following upgrade paths or vendor recipes:

Amount
Ingredient
General
Notes
Type
8
The Encroaching Darkness

The Encroaching Darkness

8

Map
Corrupted

No matter where your dreams take you, Nightmare follows close behind.

random corrupted Map
Automatic
8
Otherworldly Incubator

Otherworldly Incubator

Adds an incubated Unique Map item to an equippable item
Item drops after killing %1% monsters

Unique Map Item

Right click this item then left click an item to apply it. The Incubated item drops after killing a specific number of monsters.

random Map
Automatic
4
Jack in the Box

Jack in the Box

4

ItemTurn the crank,
close your eyes,
and pray to the gods
for a pleasant surprise.
random item
Automatic
Trivia
Because Item Rarity and Item Quantity decrease proportionally with Light Radius, they may increase as well. Stacking Light Radius in this map increases Item Rarity and Item Quantity. Casting Desecrate will increase your current Light Radius, effectively increasing both Item Rarity and Item Quantity for a short time.[1]
Legacy variants
Whakawairua Tuahu has legacy variants.
Version Discontinued
Base Item
Modifiers
3.1.0
Strand Map
Map Level: 73

Area contains many Totems
Curses have 50% reduced effect on Monsters
(120 to 160)% increased Rarity of Items found in this Area
Rare Monsters each have a Nemesis Mod

2.0.0
Strand Map
Map Level: 71

Area contains many Totems
Curses have 50% reduced effect on Monsters
(120 to 160)% increased Rarity of Items found in this Area
Rare Monsters each have a Nemesis Mod
Version history
| Version | Changes |
| --- | --- |
| 1.2.3 | |
References