Wind and ThunderThe dreaming fabric flutters and cracks in the wind like thunder. A sharp sound that freezes the blood.You will track down a powerful Galvanic Ribbon in a map who will drop a unique item when slain.Right-click to add this prophecy to your character.

Acquisition
DROP RESTRICTED
Seal cost: 2×
Silver Coin

Vendor Offer
1x Scroll FragmentMetadata
Item class: Stackable Currency
Wind and Thunder is a prophecy.
Objective
Kill a rare Galvanic Ribbon in one of the following locations:
Reward
Galvanic Ribbon will drop
WindripperWindripper
Imperial BowBow
Quality: +20%
Physical Damage: 24-93.6
Elemental Damage: (48-60) to (72-90), 1 to (120-150)
Critical Strike Chance: (6.50%-7.00%)
Attacks per Second: (1.59-1.67)
Weapon Range: 120Requires Level 66, 212 Dex(20-24)% increased Elemental Damage with Attack SkillsAdds (48-60) to (72-90) Cold Damage
Adds 1 to (120-150) Lightning Damage
(10-15)% increased Attack Speed
(30-40)% increased Critical Strike Chance
15% increased Quantity of Items Dropped by Slain Frozen Enemies
30% increased Rarity of Items Dropped by Slain Shocked EnemiesIt hunts; as silent as falling snow, as deadly as the tempest.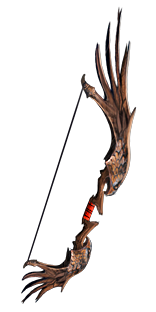 upon slaying.
Version history
Version
Changes
2.3.0g

Added Galvanic Ribbons to the pool of monsters that can spawn in Endgame maps. This will allow players to complete the Wind and Thunder

Wind and Thunder

The dreaming fabric flutters and cracks in the wind like thunder. A sharp sound that freezes the blood.

You will track down a powerful Galvanic Ribbon in a map who will drop a unique item when slain.

Right-click to add this prophecy to your character.

Seal Cost:
2x Silver Coin prophecy.

2.3.0