Wyrmsign
Wyrmscale Gauntlets
Quality: +20%
Armour: (211-246)
Evasion: (211-246)
Requires Level 49, 38 Str, 38 Dex
Socketed Gems are Supported by Level 5 Concentrated Effect
(120-160)% increased Armour and Evasion
+(50-70) to maximum Life
4% reduced Mana Cost per Endurance Charge
Gain Rampage while at Maximum Endurance Charges
Lose all Endurance Charges when Rampage ends
Those who witness the shimmering scales of the wyrm
know only fear for the rest of their lives.
Fortunately, the rest of their lives
can be measured in seconds.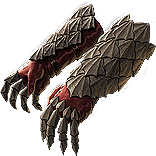 Vendor Prices
Vendor Offer
11x Alchemy Shard
6x Alteration Shard
Metadata
Item class: Gloves
Wyrmsign is a pair of unique
Wyrmscale GauntletsWyrmscale GauntletsArmour: 88
Evasion: 88Requires Level 49, 38 Str, 38 Dex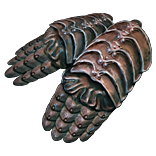 .
Modifiers
Applicable skill gems socketed in this item are supported by level 5
Concentrated Effect SupportConcentrated Effect SupportSupport, AoE
Icon: o
Level: (1-20)
Cost & Reservation Multiplier: 140%Requires Level 18Supports any skill with an area of effect, regardless of whether that skill deals damage.Per 1% Quality:1Superior2Anomalous3DivergentSupported Skills deal 0.5% increased Area DamageSupported Skills have 0.5% less Area of EffectSupported Skills have 0.5% reduced Enemy Stun ThresholdSupported Skills have 30% less Area of Effect
Supported Skills deal (25-39)% more Area DamageThis is a Support Gem. It does not grant a bonus to your character, but to skills in sockets connected to it. Place into an item socket connected to a socket containing the Active Skill Gem you wish to augment. Right click to remove from a socket.
. All support stats are accounted for, including the mana multiplier.
Wyrmsign grants Rampage upon reaching maximum Endurance Charges.
Item acquisition
Upgrade paths
This item can be acquired through the following upgrade paths or vendor recipes:

Amount
Ingredient
General
Notes
Type
5
Mitts

Mitts

5

Gloves

Those whose hands are their livelihood know the importance of keeping them safe and warm.

random gloves
Automatic
7
Prejudice

Prejudice

7

Item


Influenced ItemOne who is blinded by their past may
only see a sliver of the present.
random influenced item
Automatic
8
Arrogance of the Vaal

Arrogance of the Vaal

8

Item


Two-Implicit


Corrupted

Discovery can lead to beauty, or it can lead to ruin.

random two-implicit corrupted item
Automatic
4
Jack in the Box

Jack in the Box

4

ItemTurn the crank,
close your eyes,
and pray to the gods
for a pleasant surprise.
random item
Automatic
1
Singular Incubator

Singular Incubator

Adds an incubated Unique item to an equippable item
Item drops after killing # monsters

Unique Item

Right click this item then left click an item to apply it. The Incubated item drops after killing a specific number of monsters.

random item
Automatic
1
The Void

The Void

1

Reach into the Void and claim your prize.

random divination card set exchange
Automatic
Supporter attribution
Wyrmsign was created by supporter leto2626.[1]
Gallery
Version history
| Version | Changes |
| --- | --- |
| 3.3.0 | |
| 2.2.0 | |
References
↑ leto2626 (February 4, 2016). "Upcoming Unique Items". Official Path of Exile Forums. Retrieved February 4, 2016.